"No matter who designs your home…be willing to share your budget…be realistic with what you can afford, and be flexible.."
So…you've decided to move forward with your timber frame/SIP home. And you're planning to be hands-on. Now what? Figuring out what your budget should be or what you can afford may in fact, be "rocket science". One of the most common questions, and rightfully so is, "How much will my home cost?" The reality of it is, "It all depends…" Nowadays, there are so many choices available. From the size of the home, wood species and style of the timber frame, type of SIP panel and foundation system to the type of flooring, counter tops, and appliances, the list is endless.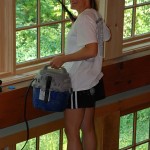 Establishing a realistic budget is very challenging. Sticking to it even more so. Preparing for unforeseen expenses is imperative. Mother Nature often does not cooperate so you may have to keep cleaning out that hole in the ground daily before any additional progress is made on your foundation. Perhaps a place to start is by using a financial calculator. A simple Internet search will provide many. Based on our actual experience, our timber frame package accounts for approximately 42% of our budget to date. However…the package we chose was complete. It included an Eastern White Pine Frame, wall and roof SIP's, T&G ceilings, windows, exterior doors, moisture resistant drywall, roofing, siding and exterior trim. In otherwords the entire exterior shell and interior finish material. We live modestly but do enjoy nice things so we had to decide what was important to us to have in the home. It's up to the client to steer the design process so that the end result is something they can actually afford to build. Building a highly efficient timber frame/SIP home is a great decision. Yes, their may be a modest increase in the upfront investment, but the return on this investment is immediate and permanent. Please contact us for a Construction Budget Worksheet. It's a great tool which contains a comprehensive list of items you may not have considered during your budget planning.
Once you've arrived at your budget range, share it candidly with your rep and design team. We have all been there. Our position was, "It's nobody's business but ours". Right? Wrong! There is an important reason to share budget numbers. We don't want to waste your time designing a home that you can't afford to build. I've met some folks recently that stated,…we are willing to build a smaller home in order to afford the nice things we want on the inside…makes sense to us. Jess and I did that also. Smaller homes are the current trend and obviously consume less energy. No matter who designs your home, the message here is to be willing to share your budget, be realistic with what you can afford and be flexible.
After performing an SEV (Site Evaluation Visit)…formally engaging the design process is the next step. A very attractive feature of our Design Agreement is that the entire design deposit is credited towards the package purchase price. Once reviewed for appropriate seals and stamps, the construction set of drawings we provide is suitable for submission to your building department along with the permit application.
You are about to start a journey that should be fun and exciting. The challenges of being a "DIYer", will be many. Rest assured that Timber Frames Unlimited is along for the entire ride. Our support does not end after the truck has left your site. From permits to paint, we can provide a wide array of services, depending on your needs. Just as our Site Evaluation Visits (SEVs) are complimentary service, we remain available for answering questions from you, your contractors or their subs.
We beleive that the success of our company relies completely on meeting the needs…and exceeding the expectations of our clients.